Sponsorship Program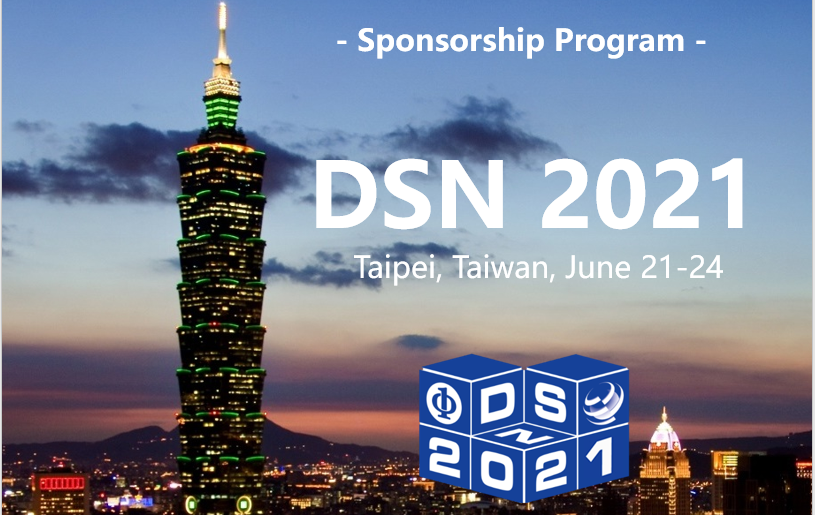 DSN 2021 WELCOME LETER

It is our pleasure to invite you to the 51st edition of the Annual IEEE/IFIP International Conference on Dependable Systems and Networks (DSN). DSN is the most prestigious international forum for presenting advanced and innovative research results, problem solutions, practices, insights on new challenges in the field of dependable computing and security. The whole spectrum of IT systems and application areas with stringent relevant dependability and security concerns are of interest to DSN.

DSN 2021 will be held in Taipei, the capital city of Taiwan. Taipei is Taiwan's largest city as well as its economic, political, and cultural center. It is a modern cosmopolitan metropolis with a lively and diversified face, filled with exuberance. From the world's tallest building (2004-2010) to the biggest collection of Chinese art, Taipei invites you into a world of fascinating contrasts - a mix of the modern and traditional, with a generous dash of energy and friendly smiles to make this one of your most memorable trips to Asia.

All aspects of dependable and secure systems and networks are within the scope of DSN, including innovative architectures, protocols and algorithms, models for performance and dependability evaluation, as well as, experimentation and assessment of dependable and secure systems and networks. Authors are invited to submit original papers on research and practice of creating, validating, deploying, and maintaining dependable and secure systems and networks.

The conference program will include plenary talks, regular papers, experience reports, an industrial track, a student forum, a fast abstract track, together with state-of-the-art workshops and tutorials. We need your contribution and participation to make it a successful event. We are looking forward to welcoming you in Taipei in June 2021.


PREVIOUS DSN CONFERENCES
● 2020 València, SPAIN
● 2019 Portland, USA
● 2018 Luxembourg, LU
● 2017 Denver, Colorado, USA
● 2016 Toulouse, FRANCE

DSN CONFERENCES 2021
● Dates: June 21-24, 2021
● Venue: The Howard Plaza Hotel Taipei(Ren Ai Rd., Sec.3, Taipei, Taiwan 10657)
● Hosting Society: National Taiwan University | CITI, Academic Sinica
● Participants: 300 participants expected


PROMOTIONAL OPPORTUNITY
WHY BECOME A SPONSOR OF THE DSN CONFERENCE 2021:
● Contribute to writing a page of the history of the dependability and security research
● Exchange information and ideas with the world's IT systems elite
● Showcase your latest innovations
● Identify or propose topics that will shape the IT systems of tomorrow
● Enjoy high media coverage both nationally and internationally
● Access and understand current research in state-of-the-art technologies
● Recruit high-level talents
● Pair with products, ideas, solutions in the world of research


We will provide opportunities for our sponsors, exhibitors and partners to be involved in conference activities and engage directly with our delegates.

We are at your disposal to help you build a partnership that will best fit your needs.



HOSTING SOCIETY PROFILES


National Taiwan University

National Taiwan University is a national university in Taipei City, Taiwan. NTU is the most prestigious comprehensive university in Taiwan and one of the top-ranked universities in Asia. It consists of 11 colleges, 56 departments, 112 graduate institutes, four research centers and a school of professional education and continuing studies.

The University was founded in 1928 during Japanese rule as one of the Imperial Universities, Taihoku Imperial University, to serve under the purpose of Japanese colonization. After World War II, the Nationalist government assumed the administration of the university. The Ministry of Education reorganized and renamed the University as National Taiwan University on November 15, 1945, with the root of liberal tradition from Peking University by former NTU President Fu Ssu-nien.



CITI, Academic Sinica

The Research Center for Information Technology Innovation (CITI) at Academia Sinica was founded in February 2007, with the purpose of integrating research and development activities in information technologies among various organizations in Academia Sinica, and also to further leverage IT-related multi-disciplinary research.

Currently, CITI has three thematic centers, namely, the Taiwan Information Security Center, the Intelligent & Ubiquitous Computing Center, and the Artificial Intelligence Innovation Center. The mission of CITI is to promote the innovation and application of information technologies, with emphases on exploring enabling technologies for essential infrastructure and on integrating inter-disciplinary technologies so as to provide the key ingredients for emerging knowledge-based and service-based societies.



Computer Society of The Republic of China

Computer Society of The Republic of China (CSROC) is an association of nationwide Non-Profit Organizations (NPOs). Its members include both individual and organizational experts in informatics, computers and communications technologies, hailing from domestic government organizations, schools, industrial companies, and research associations. CSROC is also involved in the hosting society profiles for DSN 2021.








CONFERENCE PROGRAM


JUNE 21 Mon

15:00 - 18:30 Workshops | Tutorials | Doctoral Forum


JUNE 22 TUE

15:00 - 15:15 Welcome / Opening Session

15:15 - 15:55 Keynote #1

16:00 - 16:45 Presentation of Best Paper Candidates

16:55 - 17:10 Carter Award presentation

17:15 - 18:30 Research Track #1 #2 | Industrial Track #1


JUNE 23 WED

15:00 - 15:40 Keynote #2

15:45 - 16:55 Research Track #3 #4 | Industrial Track #2 | Fast Abstract #1

16:55 - 17:55 Research Track #5 #6 | Industrial Track #3 | Fast Abstract #2

18:00 - 18:30 Research Track #7 #8 | Industrial Track #4

18:30 - 19:00 Award Announcement & Recognitions


JUNE 24 THU

15:00 - 15:15 Rising Star in Dependability (RSD) award presentation

15:15 - 15:55 Keynote #3

16:00 - 17:00 Research Track #09 #10 | Industrial Track #5 | Fast Abstract #3

17:10 - 18:10 Research Track #11 #12 | Best of SELSE | Fast Abstract #4

18:15 - 18:30 Business meeting



SPONSORSHIP PACKAGES


The sponsorship packages provide sponsors with broad visibility before and during the congress.
4 categories are offered:PLATINUM / GOLD / SILVER / BRONZE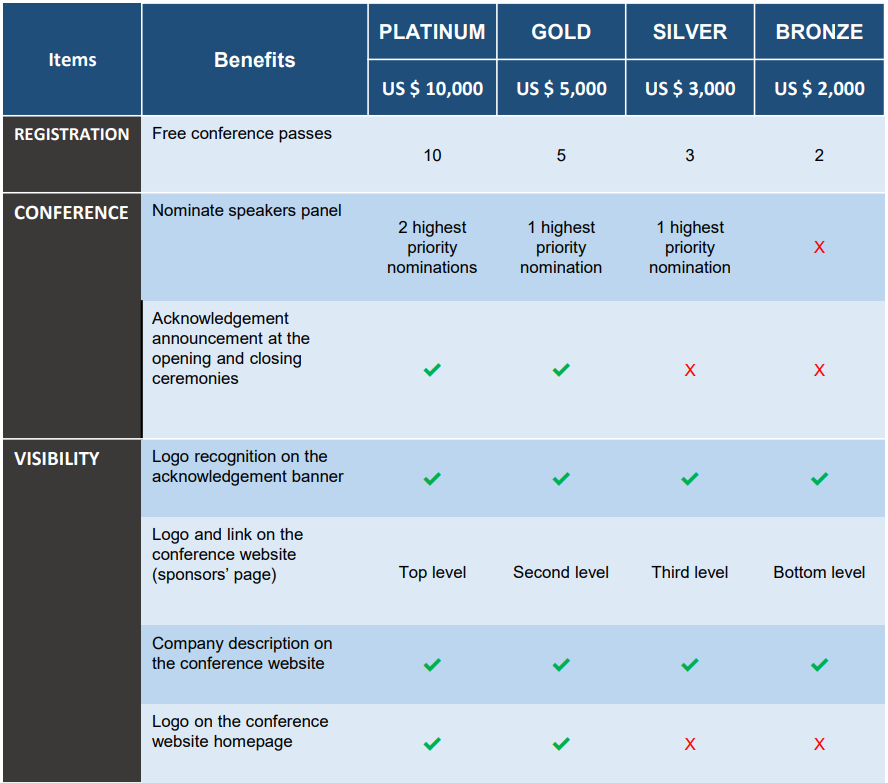 SPONSORSHIP REGISTRATION FORM


On behalf of DSN 2021, your support is highly appreciated.
Please return the completed form to the Conference Secretariat via Email.

Contact Person:DSN 2021 Secretariat | Cho-Chun Sun
Tel:+886-2-3366-3511
Email: chochun@ntu.edu.tw